I'm a fully independent, freelance mobile and remote recording engineer, audio editor and mixer, for speech-based work such as podcasts, live stand-up comedy shows and radio. I can provide recording, editing, or a full production service from start to finish, at a fraction of the cost of hiring a studio facility. Most of my work is in the London area, but I am happy to work further afield. I live in Essex, about 35 minutes on the train from central London.

I've worked as a sound engineer in busy London studios since 1999, on a variety of work including BBC Radio Four features, comedies and discussion programmes; podcasts; TV documentary mixing; feature film ADR; TV and radio ads and more. I finally decided to go freelance in 2011. With over 20 years of experience you're in good hands. I've tried to cover most bases below, but do get in touch if you have any questions!

I'm pleased to announce that I am again available for location recording work if you are. I am fully vaccinated (including booster, December 2021) and am happy to wear a face mask while working. I also carry out regular self-testing.

Remote recording service

I use the Cleanfeed platform to remotely record presenters and guests separately, all from my studio at home. Guests simply need a decent mic, headphones, and a web browser on their computer. I've been using this method since March 2020, and it works remarkably well. The quality of guests' mics and set-ups will still be a factor, but with its ability to record separate tracks for guests, it's far superior to recording via consumer video conferencing platforms. If Cleanfeed isn't an option for you, I can also run Zoom, Skype, Microsoft Teams and Facetime across my Apple and Windows computers. I also run an SD card hardware recorder as a back-up machine for all sessions.

Mobile recording service

I have my own portable recording rig comprising a Zoom F8n 8-mic channel location recorder and four matching broadcast-quality condenser microphones with foldable table stands and pop shields - effectively a mobile radio studio that fits in a rucksack. I also have a handheld Tascam stereo recorder complete with fluffy windshield for outdoor and 'roving' mic recording. I can offer location recording for podcasts, round-table discussions, interviews and more, and have recorded client projects all over the UK and abroad. I've also recorded live comedy and panel shows at venues such as the London Palladium, The Hay Festival, Theatre Royal Brighton, The Latitude Festival, The Dancehouse Manchester, and The Royal Albert Hall. I get to record and make some of the most exciting podcasts on the internet, including The Guilty Feminist, How to Fail with Elizabeth Day, Best Friend Therapy, Comeback Coach and Ex Libris, all of which I've worked on since their inception.

Editing and mixing

When working on projects like podcasts, I will generally remove 'ums' and 'ers', tidying up things like long pauses, mistakes, stumbles and so on, so that it flows and is a nice listen. I'll then move on to mixing and balancing each mic channel separately. This stage is crucial in making a podcast sound broadcast-quality rather than like it's been recorded in a bathroom, yet it's amazing how many people leave this out. Finally I'll add any atmos, music or stings, before final file mastering.

(If your edit doesn't look like this, you haven't really edited your podcast...)

I have a powerful arsenal of sonic goodies available at your disposal. For most of my work I use the industry-standard Pro Tools, but I also have SADiE 6 for my ex-BBC clients; the incredibly good Izotope RX restoration package; Waves limiting and loudness plug-ins; and Adobe Audition for fine file editing, mastering and batch processing. All software is fully licensed. I have fibre-optic broadband for fast up/downloads, and 100GB of cloud storage for client deliveries.

Podcast showreel



The extracts are all location recordings by me in various places including a front room, an office, an old library, and a bookshop in St. Andrews! All extracts were recorded using my mics, except the live shows where the venue mics (normally the ubiquitous Shure SM58s) were used, in conjunction with my stereo X-Y mic rig for audience recording.

Extracts: How to Fail: Phoebe Waller-Bridge; The Guilty Feminist (Zoe Lyons); Ex Libris: Val McDermid; In Good Company: Alison Roman; Ex Libris: Bobby Seagull (Deborah Peck); Global Pillage (Sarah Bennetto); How to Fail: Nigel Slater.

Studio engineering

I've spent years at the sharp end in London studios working on buckets of BBC Radio programmes, radio and TV ads, ADR for feature films, dialogue for major videogames and more. I'm happy to visit your facility and can offer recording, editing, and mixing for:
Podcasts
Radio programmes
Audio dramas
TV documentary dubbing
Audiobooks
TV and radio commercials, including R128-compliant mixing
ISDN and Source Connect link-ups
AAA videogames
ADR for feature films and TV
Corporate communications
Live radio PR days
Foreign localisation / language dubbing and more.
Please note, I am an experienced engineer for audio-post, and am not a sound engineer for music. I do not offer location/boom mic recording for TV or film.
The obligatory shot of a random mixing desk can be found here.
Rates:
For some jobs like podcasts and live shows, I'm happy to negotiate a set price per item, rather than my studio engineering day rate, so you know what you're spending. Prices will be affected by things like duration and amount of voices involved, so do get in touch for a quote. For example, editing for a simple one-voice podcast can be as little as £100.
Freelance studio engineering rates:
These rates are if you would like to hire me to engineer in your studio.
Per day (10:00 - 18:00) £250
Per half day (Any 4 hours between 10:00 and 18:00) £150
Additional hours (between 10:00 and 18:00) charged at £35ph
Weekends/out-of-hours charged at time and a half
Public holidays charged at double
No VAT involved. Prices exclude any dry-hire studio costs.
Please note that if you'd like me to record at your location or venue, I'm happy to work outside London but it will incur additional charges to cover transport from/to London and any accomodation costs. Often in these cases, my clients tend to arrange my transport and accomodation themselves which keeps things simple.
I'm afraid I don't allow clients to visit my home audio suite - all remote editing/mixing work is carried out unattended.
Contact: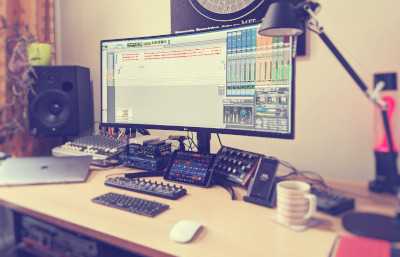 My home audio suite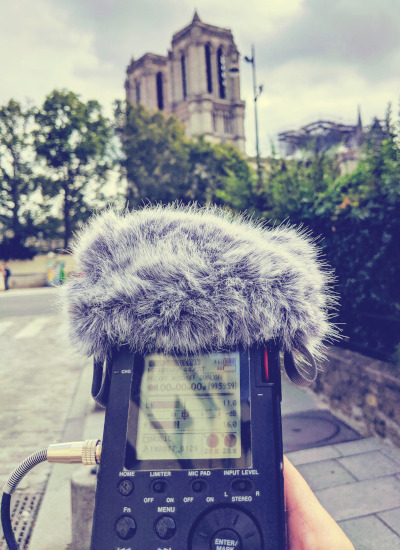 Recording atmos in Paris. They let me outside sometimes.